One of the keys to a healthy pet is the early detection and prevention of disease.

The gradual onset of health problems in an apparently healthy pet often go unnoticed.
Once symptoms appear, the condition may be difficult or costly to diagnose and treat. There are many conditions, which if diagnosed early, can be completely reversed or controlled for an extended period of time.
Family Pet Clinic of Redondo Beach will tailor individualized wellness plans for your pet.
We recommend yearly wellness exams to help detect, treat and prevent health problems before they become serious.
Senior pets should receive wellness exams twice a year.
We will recommend disease prevention based on your pet's lifestyle and local risk factors, and we will educate you and raise awareness regarding nutrition and the aging process.
Case Study:
I would like to reinforce the value of thorough wellness exams for your dogs and cats. Leo is a really sweet 5 year PitBull mixed breed dog.
I recently performed a wellness exam on this nice boy. He had been doing very well according to his "mom" but she just wanted to make sure everything was okay with him. Leo is on oral medication for a chronic orthopedic issue and his mom is very proactive, which I love! Well, he looked happy and healthy overall, but I discovered pus draining into his mouth from a root abscess!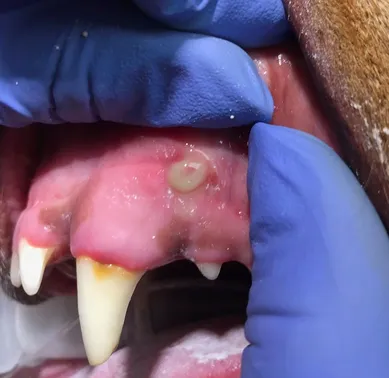 Leo did not show me that he was painful, but I am quite sure this must have been hurting him. We submitted pre-op lab work for a complete dental cleaning under anesthesia so that we could take dental x-rays and extract the problem tooth. Once under anesthesia, we were able to see the fractured tip of the crown of the tooth that allowed for bacteria to enter into the root canal.
The x-ray shows the large puddle of pus that had been trapped deep in the bone around the root tip. His root canal is also widely dilated and filled with pus. The extracted tooth was very diseased. The rest of his mouth cleaned up beautifully and Leo woke up with lots of excellent pain control on board and feeling really excellent!
It turns out that Leo's dad throws a hard plastic frisbee for him... the hard plastic is the likely culprit that caused the damaged tooth in the first place.
Take home points: Please bring your dogs and cats in to see the veterinarian for a thorough physical exam once or twice a year! Also, be careful with hard plastic toys!


Here's what our customers say:
"I brought my puggle, Max to the Family Pet Clinic of Redondo Beach for a few minor medical issues (vaccinations, teeth cleaning and removal of a couple of tumors).
Dr. Wong, DVM and Mark (Veterinary Asst.) were extremely helpful and professional as were the office staff (Vanessa, Megan, Kim and Phaedra). I highly recommend the Family Pet Clinic of Redondo Beach and will continue to bring my dog to them in the future and I will also recommend them to other pet owners, I would give them a 10 star review if I could, they're the best.
I especially liked the detailed after-care instructions and the itemized invoice.
Thank you to the entire staff at the Family Pet Clinic of Redondo Beach and especially Dr. Wong and Mark, see you soon to have Max's stitches removed in two weeks."
"My husband and I moved to California a couple of years ago and have been looking for a good vet for our senior dog since.
We had some terrible experiences before finding this clinic and are just absolutely grateful that we found this place when we did. The staff here are incredible! You can feel that they genuinely care for animals and want the absolute best for them which is shown even more so by the care they take to make sure they are comfortable throughout the entire visit.
I also want to mention Dr. Friedman specifically and how wonderful she is. Our dog is a bit nervous around new people but she immediately made her feel at ease by getting down on her level and letting her come to her. She took a lot of time to really walk us through what was going on with our dog and what our options were and has diligently followed up on her since.
You would be hard pressed to find a better clinic or vet in the area!"
Had my first visit here with my cat today, the service was exceptional. Lady at the front desk got me in even though I didn't have an appointment.

She happened to have an opening at the time I arrived. But be sure to make appointments.. the doctors were nice and professional, definitely didnt feel like I was being up sold like other vets I've visited.
I've found my new Vet for my pets. They seem like they actually care.
Thanks guys!