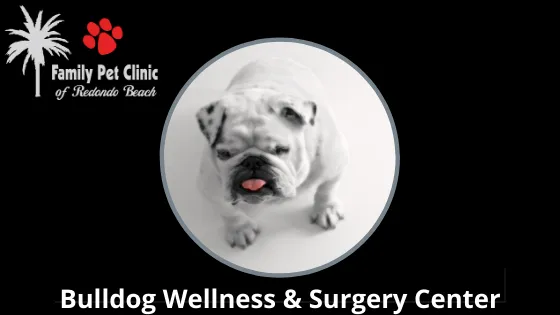 We do nares and palate surgeries on brachycephalic breeds at Family Pet Clinic of Redondo Beach
Many brachycephalic ("short faced") breeds have airway issues, which is secondary to indiscriminate breeding practices. The surgical risks are moderate—on rare occasion a patient needs overnight "babysitting" after surgery in order to receive a little more oxygen and monitoring. We are confident that the benefits of surgery far out-weigh the risks of anesthesia.
Our patients usually wake up from surgery "instantaneously" breathing better!
We have discovered a number of "tricks" that allow us to safely anesthetize brachycephalic breeds:
All patients have a set of chest x-rays taken pre-op in order to determine if they also have hypoplastic trachea, and also to confirm that they do not currently have evidence of aspiration pneumonia, esophagitis/megaesophagus or bronchitis. Pre-operatively, all patients are given two different anti-nausea medications, an antacid, and a prokinetic drug (metoclopramide) to decrease chances of regurgitation. Palate surgery patients are given a steroid as an anti-inflammatory which decreases swelling at the surgery site. We use dental nerve blocks which block pain to the nares surgery sites and we use pre-and post-surgery cold laser therapy (photobiomodulation) to block pain and inflammation and regenerate collagen. We pre and post oxygenate each patient which really helps with anesthesia and recovery.
We use an increased fluid flow rate during anesthesia to compensate for the fact that most of our chronically regurgitating patients arrive dehydrated. We have an assigned nurse attached to each patient until the patient goes home. Every patient is checked on with phone calls and emails as needed until the patient has reached a status of full recovery.
If a patient needs overnight observation, or develops any issues post-operatively, we recommend VCA Advanced Veterinary Care Center in Lawndale for patients that live nearby. If you live further away, as many of our patients do, please know where your closest ER is located.
We always send home pain medications and relaxation medications (anxiolytics).
Confirmation of the status of the palate and the possibility of everted laryngeal saccules (see article below) can only be verified at the time that the patient is put under anesthesia—only then can a complete pharyngeal/laryngeal exam be performed. The surgeon will call the owner at this time to discuss the surgical plan before moving forward. Before and after photos of the surgery will be texted to the owner as the patient is waking up.
Our brachycephalic patients benefit greatly from airway corrective surgeries. Our clients tell us that their pets improve 25% to 100% after surgery. Some "brachy" issues cannot be corrected surgically, and so they may still snore, they may still not be as athletic as some breeds, they may still occasionally regurgitate, and they may still be heat stroke risks to some degree. Some of the congenital issues that we cannot surgically repair include hypoplastic trachea and "folded" or tortuous nasal turbinates. That being said, opening up the nostrils, excising everted laryngeal saccules (if present), and resecting excess palate tissue offers dramatic beneficial quality of life improvement for most affected brachycephalic individuals.
Please carefully read the document entitled "What to Expect Before and After Airway Corrective Surgery" that is linked below.
Brachycephalic Obstructive Airway Syndrome (BOAS) - What to Expect Before and After Airway Corrective Surgery

Dr. Daffner Performing Palate Surgery

For the stenotic nares surgery, we use a #11 surgical blade to cut a deep wedge of tissue from the lateral nasal folds. We place a few absorbable sutures that will fall out on their own in a few weeks. The surgery sites often look a little "crusty" and lose their pigment for a few weeks and then re-pigment again once the sutures fall out. The surgery site is sometimes itchy so we recommend a cone for the first 2 weeks or so until the nose is no longer itchy.
For the elongated soft palate resection surgery ("staphylectomy") we use a radiosurgery cutting device—the excess soft palate tissue is removed via high frequency sound waves, which allows for minimal anesthesia time and almost no bleeding. We place 3-5 tiny sutures in the oral mucosa which seems to hasten healing time. The recovery is apparently almost "instantaneous" and the dogs go home ready to eat and drink.
Everted laryngeal saccules are grasped and excised at the base. Epinephrine on q-tips is used to control the tiny amount of bleeding if present. These saccules only exist as air filled "balloons" inside the laryngeal opening because of extreme negative airway pressure. Saccules don't actually exist until the patient has spent weeks/months/years struggling against their nostrils and palates.
| | |
| --- | --- |
| Before - Stenotic Nares Surgery | After - Stenotic Nares Surgery |

Bulldog Breathing Struggles Before - Brachycephalic Obstructive Airway Syndrome (BOAS) Surgery

This video shows the struggles that a bulldog goes through when they are born with tight/narrow nostrils ("stenotic nares") and also an overlong ("elongated") soft palate. This is called Brachycephalic Obstructive Airway Syndrome ("BOAS") and these congenital defects lead to severe exercise intolerance, heat intolerance, heat stroke, vomiting, regurgitation, sleep apnea, and aspiration pneumonia. I have become an expert at performing the surgeries necessary to allow a bulldog to live a better life.
The very cute and very sweet bulldog in this video is scheduled for surgery with me tomorrow. He should be at least moderately improved in many ways within just a few days of surgery.
Bulldog Breathing After - Brachycephalic Obstructive Airway Syndrome (BOAS) Surgery
This video was taken a few hours after surgery. I performed three airway corrective surgeries on this pup, including stenotic nares repair, overlong soft palate resection, and everted laryngeal saccules. (He was neutered too!) He recovered very quickly and is breathing dramatically better than he was before surgery. I have transformed his life and this makes me a very happy veterinarian.

Bulldog Specific Veterinary Services We Offer:
Stenotic Nares Surgery

Elongated Soft Palate Surgery

Corkscrew Tail Amputations

Everted Laryngeal Saccules

Detailed Exam & Consultation

Dentistry

Diet & Nutrition

Skin & Coat Treatments

Abdominal Ultrasound Services
Sincerely,

Dr. Kimberly Daffner "Bulldog Expert" (310) 376-0072 [email protected]
Please refer to this website for more detailed information regarding the pathophysiology of these airway syndromes:

https://www.vet.cam.ac.uk/boas/about-boas/pathophysiology
https://www.vet.cam.ac.uk/boas/about-boas/recognition-diagnosis https://www.vet.cam.ac.uk/boas/about-boas/management-treatment

Below are some really informative Bulldog care and health related blog posts:
Bulldog Mortality and Brachycephalic Obstructive Airway Syndrome
Everted Laryngeal Saccules Surgery for Brachycephalic and Bulldog Breeds
This is a new and effective tip for bulldog parents
Tight Nostrils & Elongated Soft Palate Surgery - French Bulldog
Stertor and Stridor: Sounds Bulldogs Make When Trying to Breathe
Brachycephalic Airway Surgical Correction
Airway Corrective Surgery for Bulldogs
Stenotic Nares Surgery for Brachycephalic-breeds
Brachycephalic Obstructive Airway Syndrome BOAS

French Bulldogs - Regurgitation & Vomiting

Check Out This Awesome Client Video:
Jennifer R.
6/16/21
I can't say enough great things about Dr. Daffner and how she has changed our little potatoes life. Our 3 year old Frenchie Hank has suffered from breathing issues ever since he was 1 years old. From overheating by just walking around the block to not knowing his limits when playing with others, Hank did not know when to let his breathing catch up with him. After seeing a review on Yelp about Dr. Daffner's knowledge on the bully breed we decided to take Hank in for a consult. I was so impressed by how thorough Dr. Daffner was in explaining the procedure, what was anatomically wrong with Hank, and what to expect with the recovery process. Being that these are Covid times and we still could not go in with our little guy, Dr. Daffner ensured she stayed on the phone for as long as we needed to get our questions answered and to put us at ease about how many staff members would be present to ensure Hank would be ok under anesthesia which was my biggest concern.
During the procedure Dr. Daffner called me as soon as Hank was put under anesthesia reassuring me that his vitals were perfect and that he was all prepped and ready to undergo the procedure. I got before and after pictures texted to me along with a detailed phone conversation of how everything went. Dr. Daffner even went out of her way to call me from home that night to check on how Hank was doing with his recovery and making sure he was responding well to the medications we were sent home with. This is how you know you've found a great vet, when they take in your family and care for them as one of their own! I highly recommend Dr. Daffner and if you have any doubts on whether or not a Brachycephalic procedure is necessary for your frenchie, Dr. Daffner's consult will point you into the right direction. Here are some pictures of Hank so you can see the drastic change this has made to positively impact my little guys life!
| | |
| --- | --- |
| Hank-Before Stenotic Nares & Soft Palate Surgery | Hank-After Stenotic Nares & Soft Palate Surgery |
Hank-3 Week Checkup Post Stenotic Nares and Soft Palate Surgery
Bulldog Partner Organizations:

Medical Organizations: